Looking into Computer Network Switches
A network that does not use a switch is called a peer to peer (P2P). This is where all devices are connected to each other usually in a line of PCs or often in a circular physical layout. PC1 would have to go through PC2ís cable to speak to PC3. If you have 10 devices on each network each one going via other PCs to talk to each other you get queues of data causing network congestion slowing the network down.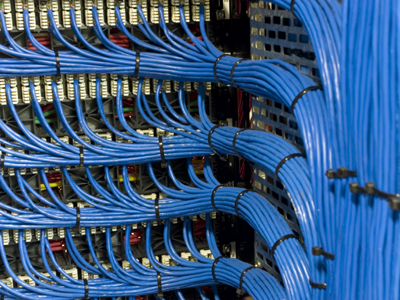 Computer network switches solve this problem. It processes the data in a hierarchical design so that if PC1 wants to talk to PC3 it sends its data directly to the switch, the switch then sends the data to PC3. That means if PC4 wants to talk to PC1 it is not waiting for PC1 and PC3 to finish communicating. They also improve security on the network and allow more flexibility such as adding other devices to the network at a future date.
Computer network switches are what is called a layer 2 device which means it works at the data level of the OSI networking model. It uses the MAC address of each device to decide where to send the data. MAC addresses are unique to every device so the switch always knows exactly which device to send the data to.
There are many types of network switches from different manufacturers and designed to different standards. Cisco tend to be more expensive but are high quality and provide substantial training packages and certification in their device use and configurations. Articles, books and tutorials on Cisco switching are very common. 3com and HP are also other well known manufacturers. There also silicone membrane keypads that can be used for user interface.
Its worth remembering a switch that has 24 Ethernet ports can manage 24 devices but also needs to have more powerful processing capabilities than a switch that has say 12 ports.
To connect a device such as a PC to a switch you would simply plug one end of an Ethernet cable into your PC Ethernet port and the other end into an available Ethernet port on the switch.
You will need to carry out some simple configurations to the switch such as configuring an IP address, a password and username to secure your network.
Using computer network switches to create a hierarchical design is more expensive than using a peer to peer network. In deciding itís best to consider how many devices will be on the network and the amount of traffic you expect it to process. If users complain your peer to peer design is very slow then investing in a switch is a good idea especially if your business relies on your network resources. If you already have a switch installed in your network VLAN configurations can help reduce network congestion further.
Your next step would be to decide on the make and model of your switch. If you have a small network of say 10 users a 12 port switch may be best. However it is worth considering the future of your network. You may have 10 users today but in 6 months you may also want to attach a printer to the network, a server for extra storage and additional computers if your staff base increases.